Off-Grid Solar Based Solutions in India
Use of off-grid solar based solutions are increasing and getting popular specially in the rural and semi-urban areas because of unavailability of regular power supply.
Lets look at some of the popular off-grid solar based solutions and services and how they are impacting the lives of people
Milking Machines
India is the largest producer of milk in the world. Also, dairy farming provides important secondary income to 80-90 million farmers in India.  Around 80% of the production comes from small farmers who need to do multiple other activities. So, milking should not take much of their time.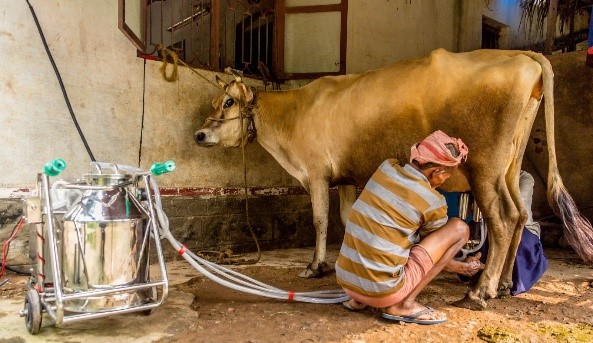 Even though some farmers have started using motorized milking machines, unscheduled power cuts in rural areas mean farmers are unable to use these machines when needed. The off-grid solar-powered milking machines will enable farmers to reduce their production time by speeding up the milking process, and also provide back-up power during power cuts. This gives them more time for other productive activities.
Solar Powered RO Systems
A solar powered RO (Reverse Osmosis) and UF (Ultra Filtration) plant is a boon for rural India since it makes safe drinking water available without dependency on intermittent / no electricity connectivity. A solar powered water purifier solution can help provide latest water cleansing technologies in remote and rural India.
Integrated Energy Centers
The integrated energy centres (IEC) are solar powered community centres that can host a range of basic services and activities lacking in an under-served community. The IECs are independent solar powered energy centers in urban, semi-urban, rural and tribal areas providing services such as lighting, mobile charging points, battery charging points, printing and purified water among the other services, chargeable on monthly basis rent. These centres that are co-located with any community space like a library, education centre or health centres; or vice versa. Education, health, finance services can be introduced in the energy providing unit to become a hub for the underprivileged to access services that are either difficult to obtain or unreliable.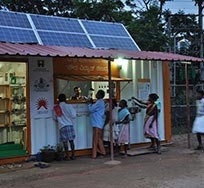 Solar Power Charkhas
India's oldest industries are switching to renewable sources of energy, and for good reason. After the Railways, the latest to join the bandwagon is the Khadi industry. Replacing hand-driven charkha, or spinning wheels, the Khadi and Village Industries Commission (KVIC) aims to make the lives of its workers much simpler.
Manually, a spinning wheel can make about 30 hanks in a standard day of eight hours.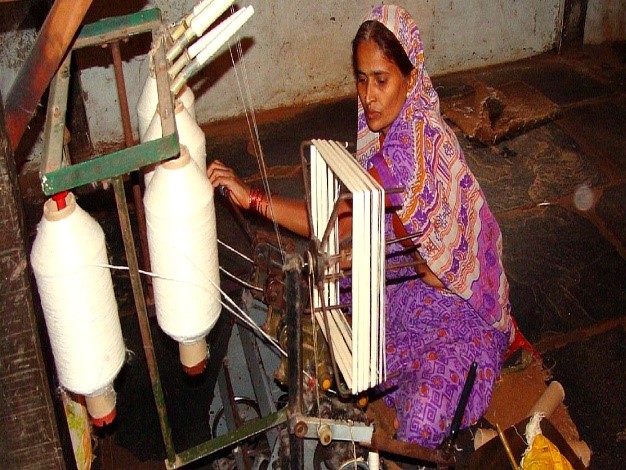 But with the newly acquired solar powered charkha, about 75 to 90 hanks can be produced in the same time frame. In turn, an artisan's daily earnings go up from Rs 140 to Rs 350, which is a major morale boost for them.
Solar powered charkha also saves electricity. Khadi, a 'green' fabric, consumes lesser water as opposed to other fabrics during production. The move to switch to solar charkha makes the Khadi industry a shining example of a sustainable, employment generating, eco-friendly industry.
References: